Analytics for Retail Success and Excellence
April 18th is yet another day of enthusiasm, energy and exhibition of our expertise for AAUM.  We have conducted yet another workshop for "Analytics for Retail Success and Excellence".
The key delegates varied from jewellery, food and beverages, multiple chain retail stores, travel services providers, FMCG manufacturing companies etc.
The workshop has three inter linked session on
Automated Reports using BIRT for easier day to day operations and to achieve data driven insights
Reaping benefits with Analytics – The parameters to ascertain the customer acquisition, loyalty and retention
Case studies with demonstration
The first session "Automated Reports using BIRT", delivered by Mr. Rajeshkumar Founder and Director of AAUM Research and Analytics, an IIT Alumnus, explained the evolution of reporting, need for analytically enriched reports, and focused on introducing Eclipse BIRT, comparing  the market available proprietary products vs open source/commercial products, how effective and adaptable BIRT is in organizations etc., He explained some of AAUM developed BIRT reports from our client engagements including NREGA.  He concluded showing a demo on Actuate BIRT 360, to showcase the capability of BIRT to the spectators.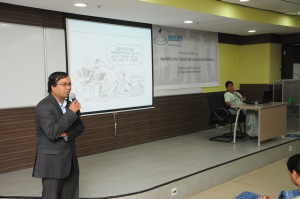 The second session "Reaping Benefits from Analytics" delivered by Jyothi Kamakshi and Anjula explained the extensive use of analytics in retail scenario. This session focused on using various advanced analytical techniques in the retail industry and how these can be leveraged to improve your business performance. Some of the topics covered were profiling and segmentation, where you understand your customers better, acquiring new customers, customer churn and retention, dynamic pricing, loyalty management and finally concluded with making the best advantage of online media and social networking sites in boosting your business.
The last session on "Case Studies with Demonstrations" delivered by Ms Parvathy Sarath showcased live case illustrations from various analytical assignments done by AAUM. It started with highlighting the elementary techniques in retail analytics like customer profiling and segmentation and market basket analysis and moved further on to sophisticated techniques like Cohort analysis and Churn analysis. The session also demonstrated the prospects of introducing dynamic pricing in retail industry. The session ended with emphasize on E-retail and how organizations can enhance their E-retail capabilities through analytics. It also touched upon 'Ordo Ab Chao', AAUM's social media sentiment mining capability and how it can be used at various domains to extract and understand the pulse of the audience in social media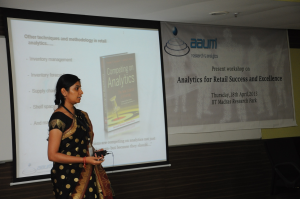 AAUM had an interactive tea break and networked with all the participants engaging in interesting conversations with filling morning snack and good tea in company.