GeniSIGHTS
AAUM Proudly Presents GeniSIGHTS .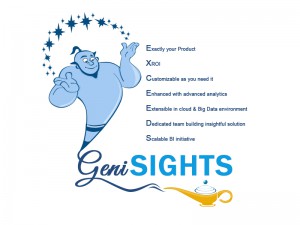 We have launched our one of its kind reporting product GeniSIGHTS on Friday, May 17th of 2013. What is GeniSIGHTS and why is it important if one may wonder, GeniSIGHTS is a highly customisable, extensible product hosted on cloud to help the business achieve insights without huge investments.
Why GeniSIGHTS is important to any business?
As time is considered "Money" these days, it is vital to the management of any industry to take timely decisions to penetrate, improve or sustain with competitive edge in the business. But what happens in reality form the rest of the story.
To take right decision on right time, businesses invest in hardware, software or resources. And the need to make the right decision mellows down to one prime factor -"The Data". As we are in the era of Big Data and Analytics, it is imperative for the businesses to derive intelligent insights from the information data can provide.
AAUM helps you achieve it with Geni SIGHTS which makes you experience the magic of insights. GeniSIGHTS helps you to view the reports of any functionality in the business which is paramount and specific to your organisation. When you have trouble viewing the data with all the comparative metrics, call our genie to help. Visualise the data the way you should see it.