"Journey : from a concept to a company"
We are what we repeatedly do. Excellence, therefore, is not an act but a habit and Aaum has a habit of always being excellent. The company Aaum, founded by IIT alumnus at IIT M Research Park, have grown steadily form 2008, May 19 as Aaum Research and Analytics till date, and has given rise to a subsidiary company called geniSIGHTS. The soft launch of geniSIGHTS was celebrated at IIT Research Park, Chennai on 2016, June 10.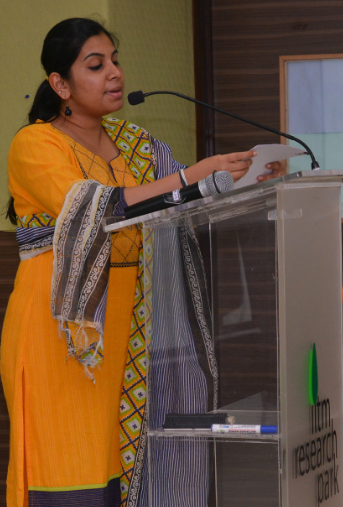 The event started by 3 PM, warmly hosted by Ms Parvathy Sarath, Director and Data Evangelist of Aaum. With the pride of Aaum's existence over nine years, Parvathy introduces the guests about Aaum and its journey along time- from a 1 to 25+ member company, from an IITM RP incubate to a successful graduate. She revealed the creation of Aaum as a company by two IIT Madras alumni, a set of first generation entrepreneurs with a passion for analytics and a zest to make a significant contribution to the analytics industry. Parvathy counted upon the moment as a life giving event to the dream project geniSIGHTS for many at Aaum. She construes evolution of geniSIGHTS as a concept three years ago due to the need to enable companies with business insights varying from basic reporting/ dash boarding capabilities to advanced analytics functionalities, by the research wing of Aaum who consistently worked to transform this concept to a bleeding edge, technology agnostic, affordable and customizable platform that helps the business scale analytics as per their requirements.
Ms Parvathy took the fortuity to thank all the customers, investors, advisors and the team for their belief, support and contribution in accomplishing geniSIGHTS. She cordially welcomed Mr Mohan Narayanan -Founder and CEO of  Kubos Consultancy Services, Srinivasan (Vishy) Viswanathan -Co-Founder at Ultimate Business Advisors LLP, Sriram Sampath -Vice President at Servion Global Solutions, Vijay Babu -Managing Director of Start Smart Labs India and Sridharan J S Co-Founder & Sr. Vice President of geniSIGHTS Pvt Ltd to light the lamp of glory and inaugurate the ceremony for a success ahead, for there are many events in the womb of time, which is to be delivered by geniSIGHTS in journey forward. Later the session was handed over to Mr Rajesh Kumar, Founder and Managing Director of Aaum Analytics.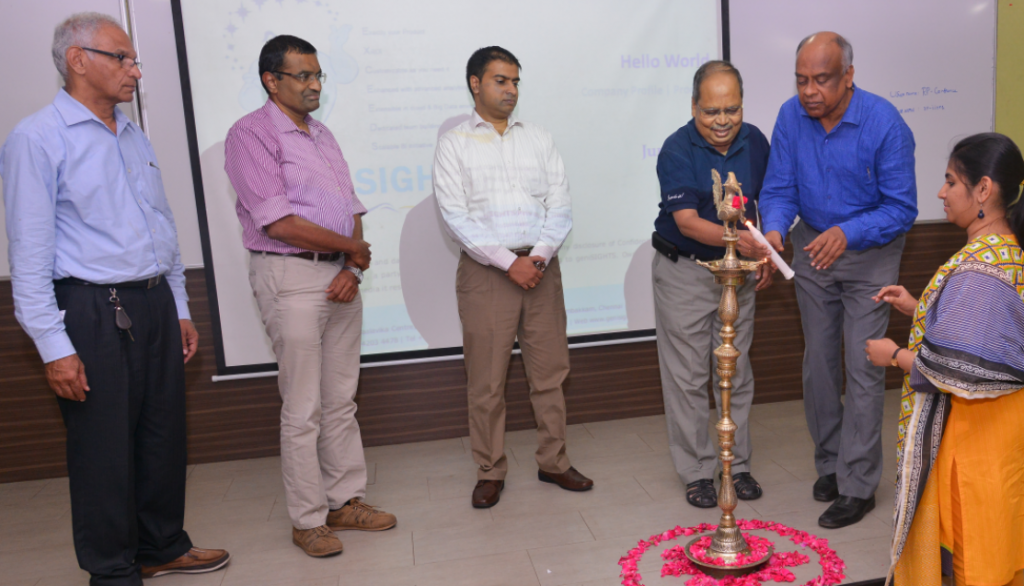 "The woods are lovely dark and deep. But I have promises to keep, and I have miles to go before I sleep."                                                                                                                        - Robert Frost
With this awakening quote, Mr Rajesh impelled the session on introducing geniSIGHTS, by thanking his team for their dedication and hard work. He extended his gratitude to IIT M, Prof Ashok Jhunjhunwala, Mr Murugappan of Murugappa Group, Usha Narayanan, Mohan, Vishy, Coustomers, and Partners for their continuous support. Later he familiarized the guests about geniSIGHTS and clarified how geniSIGHTS could be utilized by organizations at an affordable and customizable platform that helps business scale analytics as per their requirements to integrate specific analytical solutions for a firm. GeniSIGHTS being specialized in building end-to-end BI/Analytics practice for customers, Rajesh vows that it could be deployed in customer premise or in a public or private cloud. With minimal engineering and maximum customization- even during the product implementation, Mr Rajesh claims that geniSIGHTS could be genuinely implemented, even with the provision of integrating to an already existing BI/Analytical platform.
Mr Rajesh revealed his thoughts on different platforms that geniSIGHTS possess as 4Cs– 'Connect' to extract, transform and load the data, 'Customize' based on the needs, 'Compute' the analytical engine and 'Consume' the analytical insights across seven domains such as retail, etail, travel, finance, telecom, bigdata and business analytics with more than 56 solutions.
Following Rajesh's session, an activity named "geniConnections" was conducted to uplift the guest's understanding about various features of geniSIGHTS in a form of a contemporary game instead of traditional approach. Being coordinated by Mr Ashwanth, the game had pictures that very indirectly depicts various glossary of analytics, which pulled out the guests to guess and decrypt the relation of pictures creatively.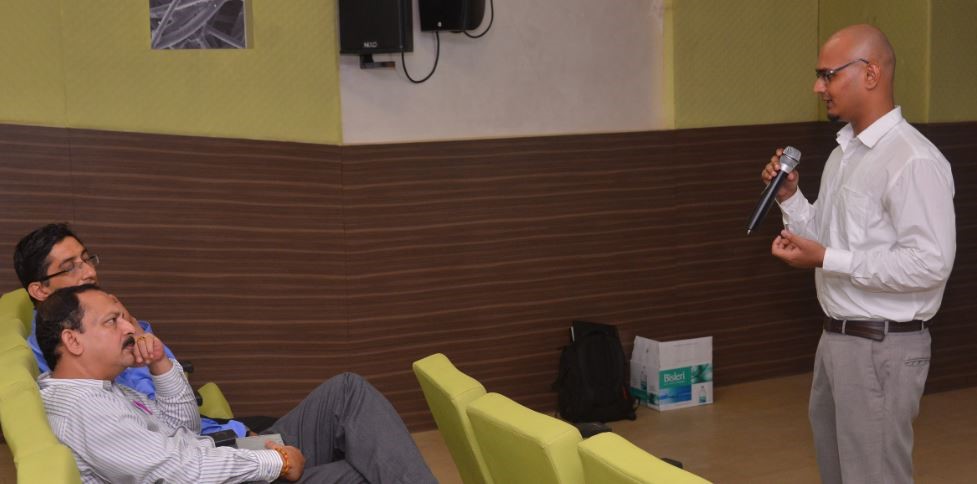 The guests and dignities were honoured and distributed with mementos, later all were lead to pantry for celebrating the moments by cutting the cake. It was an emotional and cloud 9 moment for Rajesh, who had cut the geniSIGHTS concept cake on behalf of Aaum family. While the guests were enjoying the treat, the team went around and interacted with the dignities and the hall was energised with happiness and joy.

To have more clarity on how geniSIGHTS have its way in resolving the problems faced by companies across various industries, an interactive activity was harmonized by Mr Ashwanth, were the guests was proposed with various problematic situations which companies of respective industry comes across and in return they were to infer and throw back their insights and suggestions to solve the issue.

Later, Ms Sri Nithya and Ms Pavithra explained the geniSIGHTS way of solving the same with the aid of geniSIGHTS website. The session was concluded by Ms Parvathy, who briefed the traits and components of geni website.
Mr Sridharan J S, Co-Founder & Sr. Vice President of geniSIGHTS Pvt Ltd, was privileged to give away his gratitude through his vote of thanks for the gathering. Being a witness throughout the travel of geniSIGHTS, right from identifying the need to create a platform that would render insights, he has been around, when the challenges were thrown at the team for meeting critical requirement set to international standards, been along when the team discusses the wanting to find a name and brand ambassador, it was indeed a gracious and heart pounding moment for Sridharan. He took the moment to thank Mr Mohan, Mr Vishy, Mr Sriram of Servion, and Mr Vijay Babu for lighting the lamp, Miss Parvathy Sarath for welcome address and introduction of Aaum and geniSIGHTS, Mr Rajesh Kumar for presenting geniSIGHTS and giving useful details that evaluates the product and Mr Ashwanth for hosting uniquely wonderful event in engaging the audience.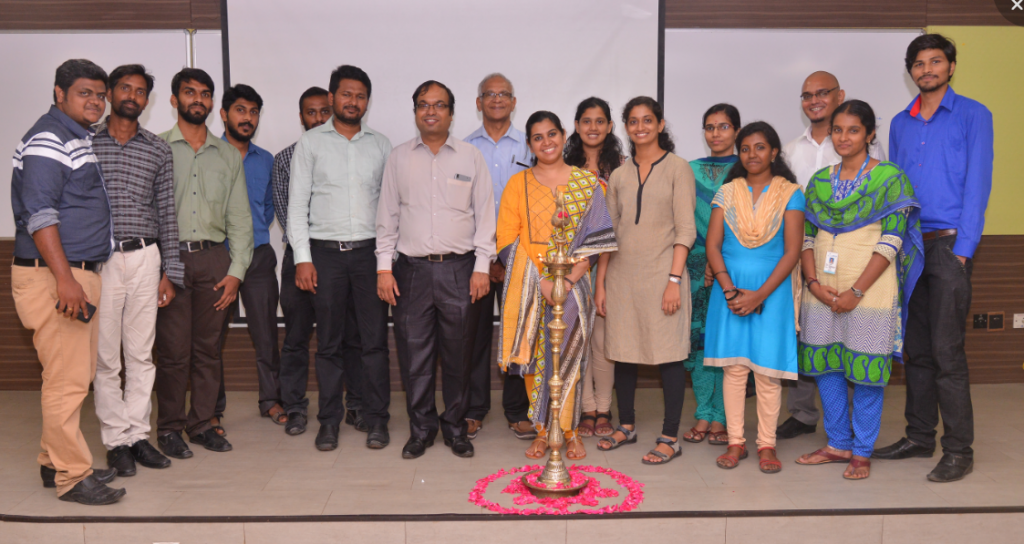 A circle of strength, founded on faith, joined in love and kept together as family –The Aaum
family members swish wands to "Experience the Magic of Insights" for all.
For experiencing the magic of Insights please visit: http://www.genisights.com/